Usually, I would have some sort of background story for myself to ramble on about before launching into my blog, but not today. I am well and truly pissed off.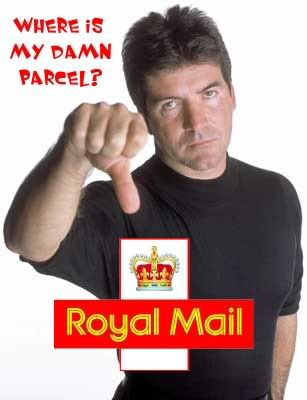 Royal Mail

I want my mail. Having just sent my university application, sometimes the universities send correspondence by post which is quicker than the rate that UCAS Track updates. Well not any more, thanks to the postal strike! The postal strike has been an ongoing crisis that has now accumulated in a mass of wildcat strikes. I am livid. University students are relying on letters from student finance, homeowners on bills, credit cards, chequebooks, and various receipts and refunds. Important things are in the post, I don't think anyone is foolish enough to take Royal Mail's job for granted, but I think they are.

Human beings don't like change. This idea has been proven time and time again throughout the course of history. The management can't handle the situation and are doing the best they can, but the postmen and women have to co-operate if Royal Mail are going to get anywhere. Royal Mail is losing customers at a rate of 10% a year and they have to modernise so that they can compete. In business speak, modernisation = job cuts. One thing, I think one has to learn from our evolving work climate and from the recession is that there is no such thing as job security. A job for life simply doesn't exist anymore.

'We used to work 9 hours a week and now we do 11!' Oh, my heart bleeds; I probably have school days longer than that, sometimes! The Royal Mail has demolished 1st and 2nd delivery, and they now have fewer hours, but by some miracle I never seem to get post before 11 o' clock, earliest. These postmen have been pictured in the betting shops, dumping mail or simply posting it back in the post-box for someone else to do it for them. I do not mean to tar all these workers with the same brush, but it is pretty annoying. The fact that they are striking in the midst of a recession is quite frankly ridiculous. 30,000 temporary jobs were up for grabs and 85,000 applied for the jobs; surely, this is not a job worth striking over? Making it hard for the temps to come in and do work, yet cause 'as little disruption as possible' is a joke.

What are the solutions to the problem? Lord Mandelson is claiming to be working closely with Royal Mail and it looked like they were coming close to an agreement on Wednesday evening. However, people are either calling for two things: PRIVATISE or LET THE GOVERNMENT SUBSIDISE IT. Privatisation will mean competition and therefore Royal Mail could become a viable business, but there is too much competition out there, Royal Mail could get absolutely slaughtered. If the business is subsidised by the government, the public will take on the huge pension deficit and Royal Mail does end up going belly up, then they could have a real problem on their hands. In China, their mail system is subsidised by the government and it is very efficient, it is more of a cultural thing, nobody would dare strike in China!

In the end, it's all looking ominous for Royal Mail and it is evident that someone is going to swing for this. So whilst they're being dismissed, they may as well take a detour to my house and deliver my fucking mail.
Currently Listening To: Million Dollar Bill - Whitney Houston